Hubble Spots Twisted Cosmic Knot: NGC 2623, the two tailed galaxy
A spectacular image of a pair of Milky Way-like spiral galaxies smashing together at high speeds and captured using the NASA/ESA Hubble Space Telescope has just been released by NASA. At first glance, the image looks like a two-tailed galaxy.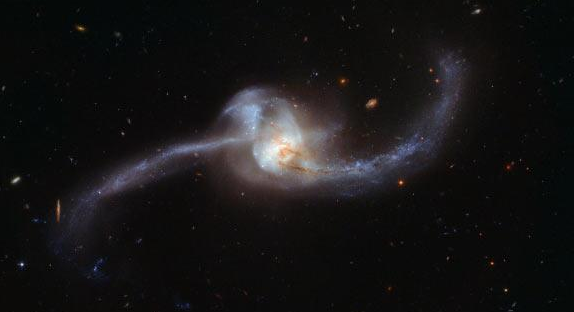 Image Credit:NASA/ESA-Hubble
This image of NGC 2623, variously also known as Arp 243, LEDA 24288 and UGC 4509. It lies approximately 264 million light-years distant toward the constellation Cancer.
And has gained its unusual and distinctive shape on account of a major collision and subsequent merger between two separate galaxies. Such a collision results in the gases within the two galaxies to become compressed initially, and then forced out in the form of a sharp spike that resembles a tail. Such tails are known as tidal tails and in the case of NGC 2623, extend for roughly 50,000 light-years from end to end.
It has been estimated, after extensive calculations that NGC 2623, has within it, at least 170 new born stars that come together to form bright stellar clusters. According to astronomers, NGC 2623 is in a advanced stage of merging.
According to the information available from NASA, this image of NGC 2623 was made from separate exposures taken in the visible and infrared regions of the spectrum with Hubble's Advanced Camera for Surveys (ACS) and Wide Field Camera 3 (WFC3) instruments. The image uses data made available through six filters and the gets its color on account of assigning different hues to each monochromatic image associated with an individual filter.
Image Source: SpaceTelescope
Heart
Haha
Love
Wow
Yay
Sad
Poop
Angry